Chapbooks are opportunities for writing students to locate obsessions and curiosities in their writing and to give themselves permission to take these obsessions and curiosities seriously. In yesterday's post, I talked about the pedagogical value of making chapbooks. Today, I've listed the top 4 things I wish I had known last month.
Word options on PC and Mac are not the same! I have Word 2010 on a PC. On that platform, it's really easy to format a chapbook through the printing settings by choosing "Print" →"Page Setup" → Set "Gutter" to about .3 (the inside crease of the book where you'll staple) → Choose "Landscape Orientation" → Choose "Book Fold" under pages. That's it! Unfortunately, it won't work on a Mac.
There are two other easy formatting options. If students have free access to InDesign, encourage them to use that! There are some really easy and clean looking design templates. If they don't have access to InDesign, they can make a PDF of their document, go to "Print" → and then choose "Book Fold." This is as easy as it gets, though after the students see what it looks like, they'll have to go back in and change the margins and the font to something that looks better and doesn't just look like they shrunk their book with a magic shrinking gun.
Printers all operate differently, which means one person might be able to print double sided in the way it would work in the book, and one person might have to be manually flipping pages in the correct way so that things aren't upside down or out of order. Even worse, there are very few students who have access to a printer where they can load the paper themselves or even get someone to do it. After making a bunch of calls at University of Michigan, I found this amazing Media Center resource on North Campus in the Art and Architecture building where students can choose from a great collection of book weight paper and cardstock and have their book printed right there. If you don't have a facility like this, it might be easiest for students to just go to a local printing shop to get there book done.
Use a long reach stapler to staple the books. Not even the Media Center had one of these. I bought one at Staple's for $31. It's pretty cool, though I ended up stapling my finger in front of the class because I didn't know the top of the stapler has to be reset after every staple. A little blood on one student's chapbook adds to the whole chapbook-as-a-unique-artifact thing.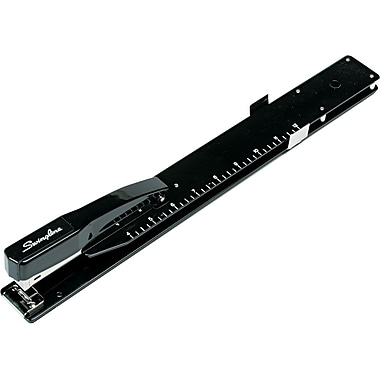 Hope passing on this information helps someone down the line. If you have any chapbook- making information to add, I'd love to hear it! I started the semester thinking we were going to make these small, handsewn beautiful chapbooks from a Poets and Writers link this January, but I couldn't get past step 3 (I tell myself that maybe it would have worked if I had a Mac?) We did fine without it. The students got wonderfully creative with what they added to the inside of the chapbook and their cover art. There were maps and songs. There were ribbons and invisible ink. There were photographs, quotes, fragments, and erasures along with the poetry and fiction they wanted to showcase. I'm looking forward to reading their creations more closely this coming week.